Let The Good Times Burn!
Guys, you've heard the old saying "the way to a man's heart is through his stomach." In regards to how loving a bumbling cook is No picnic, No dude wants stomach poisoning. These statements hold some truth in most cases regarding love, romance and hospitalization.
It's safe to say that every dude loves a woman that can cook good! (Hell, all men gotta eat, right?) A Man want a good woman, who can prepare fantastic tasting dishes. We like eating new shit (…and not only in the bed room.)LOL.
But along comes Carla. (Can't cook worth a shit!) She thinks she understands this concept about men and what they like when it comes to food & sex. This woman desperately want to please her man; not only in the bedroom, but also at the dinner table. So now, let's see what's cooking with this goofy woman.
'CARELESS CARLA'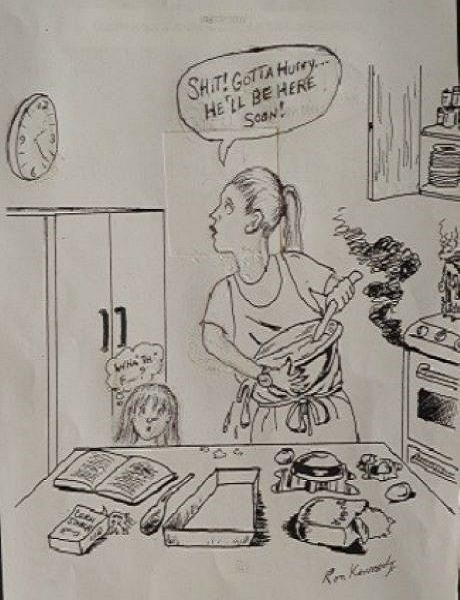 VITAL STATISTICS – Age: 24 to 49, Height: 5'3″ to 5'7″, Weight: Slightly Lean!
OCCUPATION – You may find this type in a downtown cooking class, screwing everything up. Or she maybe a co-assistant at a catering business
FAVORITE FOODS – When you come by her place, she'll have a candlelight dinner setting that includes 'Roasted Head of Moose' smothered in gravy. Also, be prepared to gobble down baked beans with raw beacon, squirrel stew and spanish rice. (Guys, if you don't have health insurance, your ass better get some.)
FAVORITE DRINKS – You know you must have drinks with that dinner; so she'll offer you her favorite, "cooking sherry on the rocks." And towards those romantic evenings, you'll sip on Jack Daniels with a buttermilk chaser.
FAVORITE MUSIC – She'll have you listening to different versions of the old 'Rice Crispy' commercial jingles, and all the food jingles played on YouTube.
FAVORITE MOVIES/TV SHOWS – She likes watching, "The Adventures of Cooking with Julia Childs," "The Galloping Gourmet," & that new broadway hit production, "It Must Be Jelly 'Cause Jam Don't Shake Like That."
FAVORITE SPORTS/HOBBIES – With her, she'll have you participating in such fun things as the annual 'squash stomping' event. Later, she'll hope you enjoy the long distance 'pork chop tossing' contest and the spoiled 'meat loaf bake-off' event.
TYPE OF CAR – She loves the look and smell of new catering trucks. If she gets one, she'll be able to haul around all the old cooking utensils she's stolen over the years.
LAST BOOK- '7 Ways To Microwave & Serve Goat-head Liver' by special, International food critic, Yule Gagkan Puke.
TURN-ONS – She get excited at new supermarket openings, discount coupons that are good for six months and food processors that don't go bad.(But with her cooking skills, does it really matter?!)
TURN-OFFS –  Generic aluminum foil that rips easily and doesn't seal, wax paper that doesn't hold and pans without matching lids.
SECRET FANTASY – To wrestle around in a large tub of pudding with world-class chefs and food critics.
ASTROLOGICAL SIGN – Scorpio
PERSONALITY – Half-baked, and struggles at what she does, this woman was married three times. Each relationship ended with blow ups because her past spouses figured they were better at cooking than her.
Now single once again, her relaxation after work consist of trying new dishes to fuck up and being creative (…But Not successfully), in the kitchen.
IDEAL MAN – Must have culinary art skills that he can pass to her, with the hopes of her getting her shit together.
WHERE TO MEET – These clumsy-types are usually found spending their time at home appliance conventions, in super markets, at fast food joints and on blind dates.
GOAL – To write a best selling cookbook.
RATING: 4.8 – Life with this bumbling, unskilled woman could only mean one thing; you coming home from work, washing dishes and preparing the evening dinner. You'll get tired of her constant coupon clipping & trading among her friends.
Experiencing constant diarrhea one week, then constipation four times a week is something you may never get use to. (It's frustrating having to run and take a shit as soon as you get to work, then realize you can't.) Damn!! But if you can handle it, then life can be a 'Bowl of Cherries.'
*If you found this post hilarious, please share it with your friends and colleagues on Facebook, Twitter, Pinterest and Reddit.
Total Page Visits: 178 - Today Page Visits: 3