Absolutely No Culinary Skills
__________________________________________________________________________________
As a man seek a good woman today, one of the first qualities he looks for is 'can she throw down' in the kitchen? Guys, you've heard the old saying that "the way to a man's heart is through his stomach." This is so true. Men love to eat and look for a woman who loves to cook. A lady with 'old fashion' values. In regards to how loving a bumbling cook is No picnic, No dude wants stomach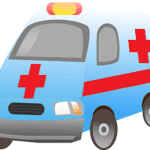 poisoning.  You may as well get in the kitchen and cook your own damn food. These statements hold some truth in most cases regarding love, romance and hospitalization.
A Rising Cost In Hospitalization Insurance
_______________________________________________________________________________
It is well known Carla is very popular with one of the CEO's  largest insurance companies. She brings in much repeat business regarding local hospital stays with her men. Stomach pumps are a 'hot' commodity in regards to the most popular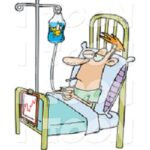 hospital item used. Yes, they love love Carla! She makes them money. It's safe to say that every dude loves a woman that can cook good! (hell, all men got to eat, right?) A man wants a good woman, who can prepare fantastic tasting dishes. We like eating new shit (and not only in the bed room). LOL
But along comes Carla. (she can't cook worth a shit!) She thinks she understands this concept about men and what they like when it comes to food & sex. This woman desperately want to please her man; not only in the bedroom, but also at the dinner table. She sometime wonder if she'll ever be able to find true love. So now, let's see what's cooking with this goofy woman.
'CARELESS CARLA'
VITAL STATISTICS – Age: 22 to 41, Height: 5'1″ to 5'7″, Weight: Lite & Fluffy!!
OCCUPATION – You may find this type working at the local fast food joint or a downtown deli. She's the one usually involved when everyone smells smoke coming from the kitchen  and starts running for their lives.
FAVORITE FOODS – A dinner invitation with Carla means a night of indigestion, diarrhea or constipation (Not to mention choking on smoke.) She'll offer up her favorite dish of raw onions & minnows on moldy buttered bread. Lunch would be tainted tuna fish on beef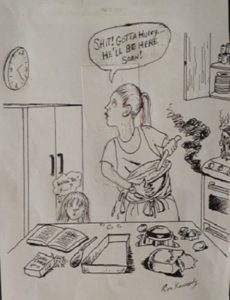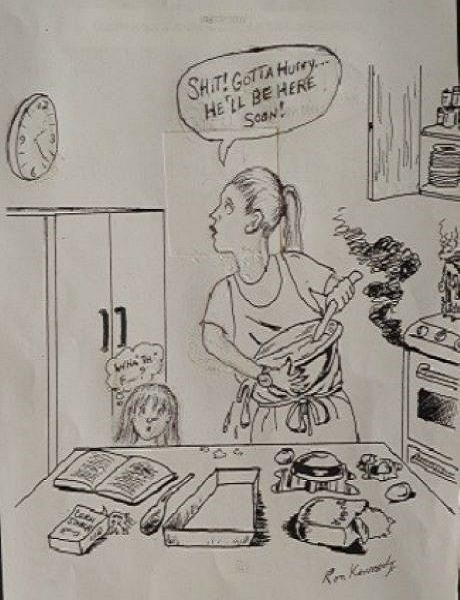 crackers. Oh yeah, and you better get use to her special home-made dessert, the ever-popular… Baked 'Snot-on-a-stick' with Chocolate Chip boogers.'
FAVORITE DRINKS – When over at her place, sit back, relax and enjoy the cool refreshing taste of donkey sweat.  Also, before bedding this crazy woman, she'll have you gulp down a large glass of 'crushed grasshopper wings' and salt water. (Her theory is that you'll be 'up & hopping' all night, never tiring during sex.)
FAVORITE MUSIC – Come on over and listen to her collection: 'Martha Steward Sings Songs From The Kitchen.'  And don't be surprised if she lays her head on your shoulder and serenade you herself (Funky breath and all).
FAVORITE MOVIES/TV SHOWS – Carla's a Big movie buff! She loves sneaking into the movies (At least, she use to. But now knows she's too old for that shit!)  But since the pandemic, she's confined at home watching all the International cooking shows she steals from cable tv.
You may also get invited to see that brand new, broad way play; 'It Must Be Jelly, Cause Jam Don't Shake Like That!' 
FAVORITE SPORTS/HOBBIES – Once you fan away the thick smoke to find a chair to sit, you'll then relax with her and watch the long distance pork chop tossing contest.
And less not forget the 25 guys competing for the title of who can eat 57 hotdogs in 25 minutes (Whoever pukes first is out of the competition).
TYPE OF CAR – None of her own. She'll be the one driving that old run down, rusted-out food caterer truck between 10 and 5pm.
LAST BOOK- '25 Ways to Microwave & Serve Goat Liver.' by author & special food critic, Mr. Yul Gag'n'puke.
TURN-ONS – She really gets a big thrill out of new supermarket 'grand openings,' easy-to-follow cooking recipes (Yeah, like it's really gonna help), discount coupons good for a month and folks selling illegal EBT food stamp cards.
TURN-OFFS – Generic aluminum foil that doesn't seal, wax paper that doesn't hold and sauce pans without matching lids.
SECRET FANTASY – To one day own the most exciting and exclusive restaurant this side of the globe.
ASTROLOGICAL SIGN – Scorpio
PERSONALITY – With a half-baked brain and zero cooking skills, she still struggle to find her way in life (not to mention finding her way in the kitchen).
This woman was married four times and each marriage ended regarding the spouses 'near-death' experience with her meatloaf. She was very close to providing business to the various funeral homes, but miraculously her men all pulled through. Single once again, Carla relaxation after work consist of baking at home, despite constant warnings from the city fire chief.
IDEAL MAN – The culinary art is a must for him to accomplish. He has to be a 'real sharp cookie' with lots of positive moves on his plate.
WHERE TO MEET – You'll find this type arguing with someone in the supermarket checkout line. Or maybe you'll meet at a 'home appliance convention' or unfortunately, she'll be a blind date.
GOAL – To one day write a best selling cookbook.
RATING: 1.2… Life with this female nut case, could only mean you eating bad dinners and making sure your health insurance coverage doesn't lapse. Be prepared to find yourself in the kitchen more than her. But who knows, she maybe just right for you. 
Experiencing constant constipation four times a week (And diarrhea every Saturday and Sunday afternoon along with a high fever over 104) is something that you may never get used to. But if you can handle all these chaotic symptoms, then life can be a 'Bowl of Cherries". 
Can't get enough of this funny stuff?
______________________________
Check it out! Get yourself a Free downloadable copy Today! Just fill in your info below. Also as a bonus, you'll receive valuable reports that you can use in your daily life regarding love, dating and relationships.